If you're a gamer, a writer, or just someone who spends a lot of time on a computer, you might have noticed a rising trend in the world of keyboards: mechanical keyboards. They seem to be everywhere these days, with people tossing out their perfectly functioning membrane keyboards for mechanical ones. But why are mechanical keyboards becoming so popular? And what makes them so special?
The Switches: Tactile vs Linear
Well, part of it is good old marketing magic, but more significantly, people were starting to fall in love with the idea of simply using a mechanical switch. The sound, the feeling – it was all anyone wanted. That clicky-clacky noise we love so much comes from the type of switch that's being used on the key. A switch doesn't thunk by default – depending on what the user prefers, there's all types of sounds and sensations they can achieve. Some can be completely silent, but others, like mine – that's right, I'm a psychopath who loves clicky switches – might wake up your neighbors.

Linear switches actuate with no physical feedback – a consistent amount of force gives you consistent motion through to bottom out. Tactile switches, by contrast, have a bump at the actuation point, requiring some extra force to engage the switch. This gives your finger physical feedback so that you know when the switch has actually been engaged. Tactile switches exist on a gradient, so you have plenty of choices for how strong you want that actuation feedback to be. There's also the spring tension or operating force, which measures how hard you have to push a key to make it move. Often people describe this as how heavy or light the keys are.
Travel Distance and Durability
Another very important piece is the travel distance of the switch – both how far the switch moves until actuating and the total distance that it can travel. Too long a travel distance, and you'll have a hard time with rapid repeated key presses. Too short a travel distance, and you'll just end up bottoming out all the time and losing a lot of the feel of a mechanical switch.
One of the main selling points of a mechanical keyboard is that they last a hell of a lot longer than your run-of-the-mill membrane board – even mass-manufactured Black Widows can last 10 years. Any competitive advantage is owed to the fact that mechanical keyboards also boast an extremely fast response time due to the nature of how the switches operate. That keystroke input signal is getting sent to your PC faster than any other type of keyboard, and in competitive gaming, where literally every millisecond counts, being confident that your inputs are going to register exactly when you want is extremely important. To some, it's so important that companies have been able to use response times as a selling feature – whether it's Razer, Corsair, Logitech, or whoever, every manufacturer is coming out with new switches that claim to have a faster response time than their competitors.
Optical Switches: A Different Mechanism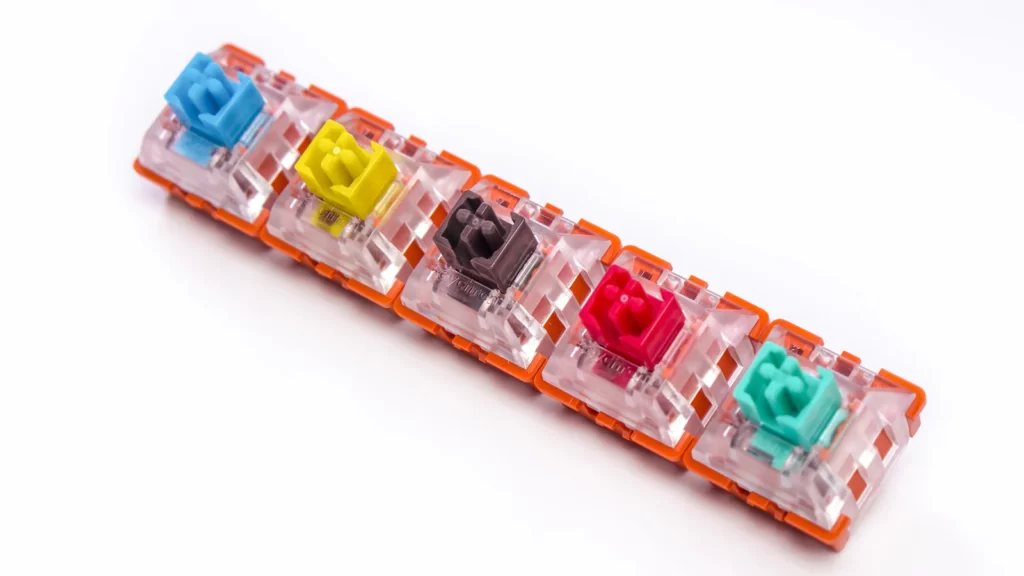 Optical switches, on the other hand, such as Corsair's OPX, use a different mechanism entirely. These switches rely on a beam of light that is interrupted by the movement of the switch, which then sends an electrical signal to your computer. This type of switch is often praised for its speed and durability, as it eliminates the need for physical contact between components, reducing wear and tear over time.
Customization Options
Regardless of your preference, keyboards have come a long way from their humble beginnings. With a wide variety of options available, you can choose the perfect keyboard to suit your needs, whether you're a professional gamer, a programmer, or simply someone who spends a lot of time typing. Customizable keycaps offer even more options for personalization, with a range of materials and shapes to choose from. Ultimately, the choice between mechanical and optical switches comes down to personal preference, with each type offering its own unique advantages.
Pros:
Optical switches have a shorter actuation distance, meaning they register keystrokes faster than mechanical switches.
They are more durable than mechanical switches because they have no moving parts to wear out.
Optical switches are quieter than most mechanical switches, making them ideal for shared spaces or office environments.
They are less prone to dust and debris buildup, which can affect the performance of mechanical switches.
Cons:
Optical switches are generally more expensive than mechanical switches.
They can be less satisfying to type on because they lack the tactile feedback of mechanical switches.
Optical switches require more force to actuate than some mechanical
Read also:
Conclusion
In conclusion, mechanical and optical keyboards offer different benefits to users, from tactile feedback and customization options to speed and durability. With a range of switches and keycap options available, it's easy to find a keyboard that fits your individual preferences and needs. So, whether you're a gamer, writer, or simply spend a lot of time on a computer, consider investing in a high-quality keyboard that can improve your overall typing experience and last for years to come.